Some of the most overlooked components in auto service are the coolant hoses and auxiliary feature automotive belts. Without your belts and hoses in good condition, it is very easy for your vehicle to fall victim to a whole range of problems that require professional auto service. Phoenix residents need to be especially mindful of this because of our arid climate. If not properly maintained, these belts and hoses can succumb to decay much faster than expected.
Interestingly enough, the belts and hoses in your vehicle are in charge of quite po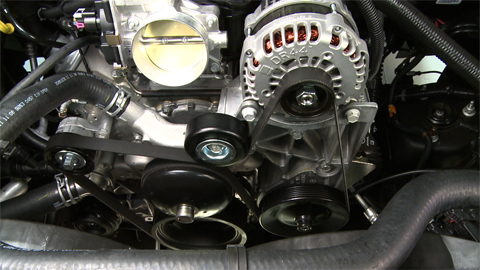 ssibly the two most important things in a healthy automobile; timing and fluids. If either of these important functions is compromised, you could be looking at serious problems very quickly indeed. Let's go over two of the most important belts and hoses in your vehicle.
Timing Belt - The car timing belt is in charge of the proper synchronization of the engine valves and pistons; it does this by controlling the rotation speed of the camshaft. Most vehicle manufacturers suggest that the timing belt be replaced every 60-90 thousand miles. If the timing belt is allowed to fail, it often results in catastrophic damage to the engine, so it is important to keep a sharp eye on its condition. Some automotive manufacturers use a chain instead of a belt for timing, if this is the case in your car, then keeping the chain lubricated properly becomes your primary concern.
Radiator Hose - Because the radiator is your engines means of staying cool, keeping your radiator hose in good repair is extremely important to your engines longevity. The extreme temperatures that the radiator hose is exposed to make it possible for the radiator hose to become weak and collapse. This restricts the flow of coolant back into the engine and can cause an engine overheat.
If your car is a little older, many of the smaller belts have been replaced with a serpentine belt to drive many of the vehicle components. If this is the case then you need to be especially mindful of its condition. A serpentine belt failing can potentially affect nearly every aspect of your vehicle, including power steering, air conditioning and water pump to name a few. Because of the work involved in removing and replacing a serpentine belt, it is extremely prudent to try and anticipate when other portions of the engine could use maintenance and get those done simultaneously. This kind of planning ahead can save you a bundle on the cost labor alone.
Ultimately, the best way to keep your vehicle in excellent condition is to exercise diligent preventive auto maintenance and keep your car at factory specification for the vast majority of its life.Understanding what your vehicle requires to stay in good health offers you an advantage in preserving the investment in your car, not to mention the benefit of a reliable vehicle for the road ahead.
At Mikes Auto Repair we understand that more often than not, most drivers simply don't pay attention to the belts and hoses in their vehicles, so we keep an eye on them for you. If we notice that something needs attention, we alert you to it before going ahead with the repair.
If you have any questions on what we can do for your vehicle, or if you have a concern about your vehicles performance, we invite you to contact us and experience the benefits of a professional auto technicians working for you