Mikes Auto Repair Phoenix is your auto maintenance headquarters in Phoenix AZ. When it comes keeping your vehicle running like new, it is always best to keep up on the systems that are required for automotive health. Preventive maintenance will give you greater confidence in your vehicle, it will protect your wallet, and help to keep your car running smoothly for many years to come.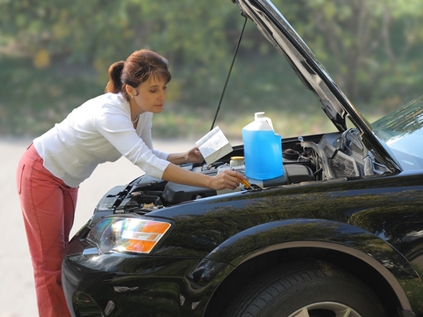 Because a lot of drivers aren't too sure what their vehicle needs when maintenance repair is concerned, we have come up with a short checklist of all the processes we go through to keep your vehicle reliable for the present and far into the future. Though it will help to go over this checklist for yourself, it is important that your vehicle be reviewed by a professional on a regular basis, and especially before taking a long road trip.
Engine - Oil changes and tune ups on a semi-regular basis will extend the life of your engine by many years and increase your fuel economy. This will protect your investment and save you money at the pump.
Brakes - keeping up on your brakes will provide you with peace of mind, and help you avoid accidents by ensuring that your brakes work when you need them the most.
Transmission - Fluid changes. A poorly maintained transmission will quickly turn into an expensive and time consuming automotive nightmare. Save yourself a boatload by having this important component of your vehicle well taken care of.
Cooling systems - Keeping your cooling system in shape will help to prevent overheating, which can be destructive to your engine, permanently. Maintaining the proper levels of coolant can help prevent this disaster.
Air Filters - your vehicle actually has two air filters, one for the air being drawn into the engine and the other for the passenger cabin. Both need to be replaced periodically if they are to work properly.
Exhaust - keeping your emissions levels at the proper level will save your gas money and make passing the next emissions test a breeze
A/C - Topping off with Freon will make your A/C work like new and maintain its functionality in the hottest summer months.
Tires - checking your tires for unnatural wear and inspecting their condition will help them last for as long as possible. Maintaining the proper tire pressure will also ease unnecessary strain on your engine and save you money at the gas pump.
At Mikes Auto Repair, all of these checks and all necessary repair and maintenance procedures are conducted by an ASE certified Technician. This is because we refuse to settle for anything less than superb quality when working with your vehicle. Our technicians are equipped with the technology, tools and experience to quickly prepare your car for the road ahead.
Remember, there is no substitute for regular care and attention when it comes to your vehicles health. Scheduling your regular maintenance in advance will allow early detection of the small problems before they turn into major issues. Feel free to contact us or schedule an appointment if you have any questions or concerns, our staff will be pleased to hear from you.